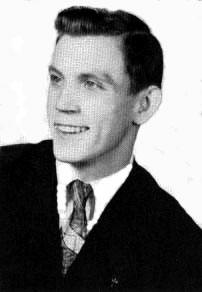 Agris Aperans Waterloo, Iowa
In 1964 I married my wife Janice. We have a daughter, Erin, living in Waterloo. I taught science in the Waterloo School System for 32 years retiring in 1994. Now I am dividing my time between Iowa and Arizona. Over the years I have enjoyed camping, backpacking in Colorado mountains, biking Iowa trails, and working with track kids. I started to play golf after retiring but have not found my niche. See you at the reunion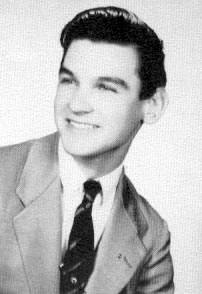 Janis Aperans
Cedar Falls, Iowa
After working for John Deere in Waterloo for 28 years, I retired on an early retirement program. Then for at least 8 years, worked at different "job shops", but still connected to Deere. Now I'm fully retired. Boy Scouts and grand children take up some of my free time.
Phyllis, my wife of 46 years, passed away after an illness that seemed to drag on, in March of 2003. Family includes Tania, She manages local pizza store and studies to be a nurse. Jery (Sue) is in Air Force and lives in California. Jeorge lives with me and works for City of CF. Jim (Pam) is in the Army, lives in Tennessee, he is about to retire. John (Marty) after retirement from Army lives and works in Albuquerque, NM. My family includes 13 grand children.
Paul Barnes
Pawleys Is., SC
US Navy 1954-1959, attended SCI now UNI graduated1962 with a BA in Accounting. I have four children all but the magician graduated from various univ(UNI,ISU, ASU. I took over the Family lumber business in 1976 until I retired in 1992. None of my children had any interest so it was sold to my employees.
In 1994 I met my Wife Alicia and we were married in 1996. We relocated to SC in 1998 leaving behind a community we both loved and always look forward to visiting when the weathers right. I currently occupy my time playing golf, tennis and Bridge. we have five grand children four of which reside in South America. We always look forward to seeing class mates so if your planning to be in our area please let us know.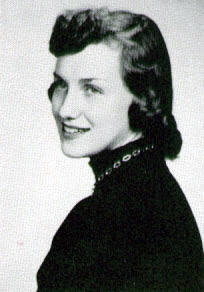 Jean Ann Baumgartner Cunningham
Waverly, Iowa
After graduation I attended college at the then ISTC in Cedar Falls for 2 years. Deciding teaching was not my thing, I worked as secretary to the superintendent of Cedar Falls schools. I have been married for almost 48 years (to the same man, Mel)!!! In 1978 we built our little house in the woods overlooking the Cedar River and still enjoy living here. We are not world travelers, but do like to visit our kids and grands.
Our daughter and her family live in Wyoming; son and his family in Alabama. We have 4 grandchildren, ages 3 to 10. Our daughter Susan has 2 boys; son Dan has 2 girls. I have done a lot of volunteer work through the years, and enjoy reading, oil painting, and container flower gardening as hobbies. Mel retired from Deere's and has an auto salvage yard in north Cedar Falls to keep him busy. Hope to see you all at the reunion!!!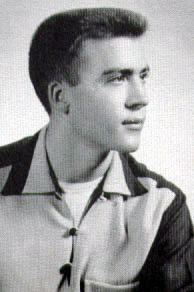 John Bintz
Traveling

After CFHS, I spent 3 yrs in the army, mostly in Paris and 7 yrs in Iowa City at UI. I taught at Univ California in Davis for several years and then started a software company when the personal computer era began in 1976. That company wrote the word processing software sold by several computer manufacturers in the US, Europe, and the Middle East (in Arabic) including Hewlett-Packard (HP Word), Xerox (Spellbinder), and Eagle (Eagle Writer). I sold the company in 1988, my house a few years later, purchased a motor home and started traveling which I am still doing today.
Last month I was in Panama and am headed to Mexico City next week. I do have a Nevada address but that address is a PO box and I am never there. I wanted very much to attend the 50th but I was required to testify as an expert witness in a NYC courtroom at the same time.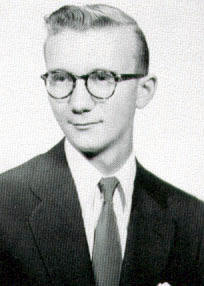 Dennis Christensen Cedar Falls, IA.
I am still carrying on the Concrete & Masonry business that my Dad started over 72 years ago. My son, David and son-inlaw, Mitch work with me. I do most of the estimating, my wife, Judy does the bookwork and Dave & Mitch do most of the hard work!!
Judy and I enjoy winters at our Condo in Phoenix, AZ.
Our latest fun project is a 2002 Thunderbird convertible. We have met lots of other Thunderbird owners on the internet and enjoy going to Thunderbird Events all over the USA!
We have four married children, and nine grandchildren which are our pride and joy!!
We are looking forward to re-connecting with all the 1954 classmates at the 50th CFHS reunion.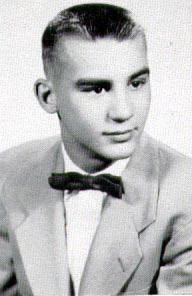 Ron & Diane Harrington Christensen
Placentia, CA
We were high school sweethearts; in fact we first held hands at Lincoln School when we were in 8th grade. After high school graduation, Diane worked at Wolverton Printing in Cedar Falls and Ron went off to serve in the U. S. Navy. Ron spent the first 16 months of service at schools in San Diego, CA, Norman, OK and Memphis, TN. Finally, he was assigned to permanent duty in Virginia, so, on his way to VA, he stopped off in Cedar Falls for a few days so that we could get married. Then off to Virginia Beach we went. A year later, our first daughter was born; a couple of years later, our second daughter was born. Following discharge from the Navy in 1958, we moved back to Cedar Rapids where Ron started a career with Collins Radio Company. It was in Cedar Rapids that our son – and last child - was born. Because of Ron's promotional transfers within Collins Radio Company, including a stint in the Dallas, TX area, we eventually landed in Newport Beach,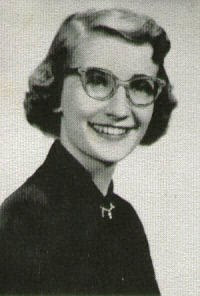 All her married life, Diane has been blessed with the opportunity to be an "at home" Mom. She had neither the desire nor the need to work outside our home. Essentially, her life has been devoted to her family and to her spiritual walk with her Lord, Jesus Christ. Eight years ago, Ron retired from Hughes Aircraft Company after 21 exciting years in the aerospace industry. During his final 15 years with Hughes, he negotiated contracts and managed large international air defense and air traffic control systems programs. He spent extensive time doing business in Israel, Egypt, Taiwan, France, Germany, Kuwait, England and many other countries. His years of international business travel gave us the opportunity to visit the U. K., Europe and North Africa together.
Following retirement, Ron learned to fly and built an airplane. Currently we simply enjoy life together in Placentia, California. We both spend a lot of time preparing for leading Bible studies at our church; Diane leads a women's group and Ron leads a men's group. We also lead a married couples Bible study group that meets weekly in our home. Ron also enjoys woodworking in his home workshop. Our eldest daughter Linn, age 48, lives in Ventura, CA with her husband and 3 children. Gary is a geologist and Linn is on staff at their church where she is responsible for youth ministries. Our second daughter Jody, age 46, lives in Jacksonville , FL with her husband and 2 children. Mike is an executive with a large medical supply company and Jody has a graphic design/advertising business. Finally, our son Jeff, age 43 and his wife live in San Diego, CA. They are in the midst of selling their home in San Diego and moving to Virginia to start new careers.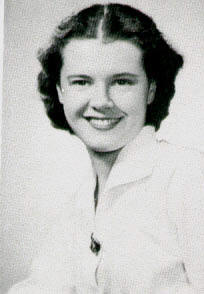 Priscilla DeBlauwe Sutherland
Tulsa, OK.
Well, I am back in Tulsa, Oklahoma. In the Fall of 1999, I got a wild hair and moved to Las Vegas. After six months the car headed to Page, AZ., where I worked for Wilderness River Adventures. Had a ball!
In 2003 had some medical problems so decided I had better go back to Tulsa to be closer to family. I am anxious to return to Cedar Falls, see and be with friends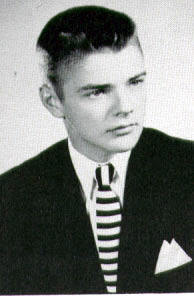 Don Denkinger
Waterloo, Iowa
After graduating from high school I attended Wartburg College for three years and the University of Northern Iowa. In 1957 I was drafted into the U.S. Army and while stationed at White Sands Missile Range, became interested in umpiring baseball. In January, 1960 I enrolled in Al Somers School for Umpires and was chosen #1 umpire as "Most Likely to Succeed" out of a class of 85 students. My umpiring career in Minor League Baseball began in 1960: Alabama-Florida League, 1960; Northwest League, 1961-1962; Texas League, 1963-1965; International League, 1966-1968. In 1968 my contract was purchased by the American League where I umpired for 30 years. During my career in Major League Baseball I worked 3 All Star Games, 1 Division Championship Playoff, 9 League Championship Series, and 4 World Series: 1974,1980,1985,1991. One of the many thrills I experienced was working behind the plate in a one-game playoff in 1978 between the New York Yankees and the Boston Red Sox. In 1990 I served as a CBS analyst during the American League Championship Playoffs. Upon retiring from umpiring in 1998 I signed a 5 year contract to supervise current umpiring crews. Final retirement from baseball occurred on December 31, 2003. I now spend my free time playing golf and enjoying our 4 grandchildren. My wife, Gayle (Price) and I have three daughters: Darcy (Timm), Colorado Springs, CO; Denise (Tony), Cedar Falls, IA; Dana (Mike), Chicago, IL. Looking forward to seeing as many of the class of 54 on June 25th & 26th.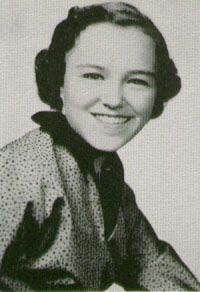 Darlene Eckerman Boggs
Springng. TX.
Married Dave Boggs 7/31/55. Three children: Dan - Lisbon, IA, Denise Cook-Spring, TX, Doug- Oakland CA. 6 grandchildren- three in Iowa and three in Texas. Moved to Cedar Rapids , IA in 1962. Graduated from Mt. Mercy College In Cedar Rapids in 1973 with a degree in elementary education. Taught at College Community Schools (Prairie) in Cedar Rapids for 25 years, retiring in 1998. Moved to Mt. Vernon in 1973 to raise our kids in a small town. It was a great move. We had many interesting experiences during the years of raising our kids. We did two missionary trips- one to Rocky Boy Indian Mission in Havre, Montana, and one to Willpinit Indian Reservation in Spokane, Washington. We enjoyed several Christmas vacations in the mountains while Dan was in school at the University of Wyoming. Dave started his own plumbing and heating business while we lived in Mt. Vernon which was an interesting experience! He finished his career as the Building Department Supervisor for the City of Marion. We built an energy-efficient home in Linn County mostly ourselves. I did all of the wiring and Denise did most of the plumbing. She gave us her summer after she graduated from Luther College! We moved to Texas upon retiring and enjoy living near our daughter, son-in-law and three grandchildren. We have done extensive traveling and wish we had the resources to do more. I am the trip co-ordinator for Senior's group at our church and plan day-trips to the Houston area. That has helped us meet new people and get acquainted with the opportunities that are here. We love the winters here, try to leave as much as possible during the summers! We would love to have you stop by and see us when you are in the area. Just give us a call first!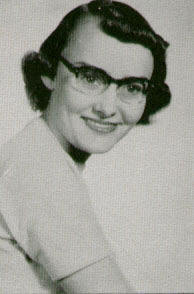 Mary Jane Flaskeraud
Janesville, Iowa
Since graduating from CFHS I have held several secretarial jobs. The last one was at Sartori Memorial Hospital in Cedar Falls where I was Administrative Assistant for almost 30 years. I retired two years ago.
My husband and I raised horses on our acreage. He passed away on March 29 of this year. We have four children - one girl and three boys - and 12 grandchildren. I'm looking forward to the reunion.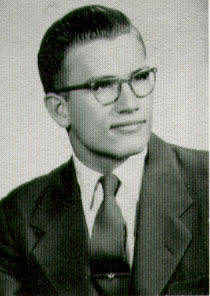 Marv Gram
Fort Pierce, FL
I entered the service shortly after high school and spent most of the time in Germany. When I returned to CF, I began work at John Deere Product Engineering, retiring from there 28 years later, and began independent consulting which I have been doing ever since. My wife Norma and I live most of the year in a retirement community in between Fort Pierce and Vero Beach, Florida where we have been since 1996. Our daughter lives close by in Lake Worth, Florida.
Three or four months of the year we travel to Iowa and Minnesota to visit our two sons and their families, one in Prior Lake, Minnesota, the other in Garrison, Iowa. We have four grandchildren, three boys and one girl ranging from 17 years to 6 months.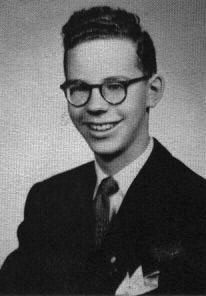 Jerry Hobson
Savannah, Georgia
I graduated from Iowa State in 1958 with a B.S. in Industrial Administration. My career path was sales and marketing management positions with Procter and Gamble and Johnson & Johnson. We lived in Michigan, Massachusetts, and New Jersey. In 1978 we purchased a children's clothing store on Cape Cod. In 1990 we relocated back to Michigan where I began a residential real estate career.
In 1961 I married Judy who is a Registered Nurse. We have 3 children---Michael, a computer engineer in Springfield, MA,; Bradley, an accountant in Boston, MA; and Heidi, a Registered Dietician in Kalamazoo, MI. We have 7 grandchildren (5 boys and 2 girls) ranging in age from 18 to 2 years. In 2002 we retired and located in Savanah, GA where we enjoyed the amenities of the historical South. The draw of family and grandchildren brought us back to Michigan in 2004.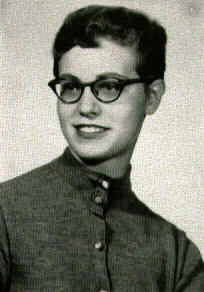 Judy Johnson McCleary
Houston, TX.
Never in my wildest dreams, 50 years ago, did I think life's paths would lead me to a home on the banks of the Buffalo Bayou, Houston, TX, as wife of an insurance agent, mother of 3 and "Chuey" to 8 of the most brilliant, beautiful, energetic grandchildren in the world! After CFHS, I received my "BA-'58," in Elem. Ed. at ISTC and a few hours later, on that graduation day, acquired my "MRS" degree. Believe me, that was too much for one day and I will not do that again!
As totally broke-teacher-newlyweds, Clark coached at North Scott and I taught 3rd grade in Davenport. Coaching opportunities took us to Wapsie Valley, where I taught Kindergarten in Oran. On to Cedar Rapids, we raised 3 children, Clark's Washington Warriors playing in the finals at the State tourney. What an exciting time we had!!
Retiring from coaching after that tournament meant leaving dear friends, family and moving to Ill., then Omaha, which was a wonderful place for raising our family. We moved to Texas in '72 and I joined the Memorial City Hospital Volunteer Service, being active as the Easter Rabbit, Pedi and Decorations Chair, all Board positions and starting a Scholarship Fund which has given over 300 Scholarships for a total of over $260,000 since 1980 with only donations, until fund raising the last 2 years. I also started and directed the Jr. Vol. program, my children being active members. Just today, May 20th, I was honored as "THE OLDEST, LIVING, ACTIVE PAST PRESIDENT." I would be a $$$rich person, had I been working, but feel success beyond measure, as I have received back more than any monetary compensation over the years.
Though out these years, I have endured Psoriatic and Rheumatoid Arthritis. This set back occurred in my late 30"s and without Clark's support, that of my family, friends and Prayer Group, I would not have made it. Disabled and unable to use my right arm made me realize each moment of my life is a precious gift and I squeeze my moments and treasure them. Through Chemo (given for arthritis to interrupt the immune system) numerous drugs and Enbrel, I am able to function, appear nearly normal and embrace each day, aware these motioned, nearly pain-free days could end in a flash.
Through this, I have been honored to be a speaker for the Arthritis Association and be a model for Wyeth-Amgen in NY, where 8 of us posed for "in the trade professional brochures." For a time, I was featured on a Web Site for Enbrel. I was overwhelmed, when one year ago, Wyeth Labs purchased one of my paintings for their headquarters in California and that money was donated to further arthritis research. I have also lobbied Congress for coverage of self-injected biological drugs.
In Houston, we run the unlisted "McCleary Motel," enjoying and entertaining family and friends from all aspects of our life. Bed and Breakfast, maps, fun, tour guides, golf, swimming, jogging trail, hot tub provided! We are thrilled Darlene and Dave Boggs are living in this area and we have been together several times for dinner.
As an active member of professional insurance associations, Clark has dedicated his career to furthering education and ethics. We have traveled and met wonderful friends in his years of serving and speaking.
I am truly blessed each day to walk, swim, paint, write stories and poetry, be active in Women's MInistry at FUMC, PEO, travel, cook, sew, deliver my Peter Rabbit Soup to shut-ins and enjoy my Clark, family and help with our wonderful 90 year-old Aunt Catherine. Our son, an attorney, and family lives in Houston and our daughters and families live in Lexington, KY and Georgetown, TX. Susan creates beautiful beaded jewelry and Karen received the Volunteer of the Year award for starting and teaching a Spanish program in the Primary/Elementary Schools in Georgetown. A highlight in my life was receiving a school paper written about me by my 8 year old grandson, Kyler, "The Most Interesting Person I Have Ever Met in My Life." WOW--who could beat that!!!I look forward to being with my CFHS grads in a few weeks. I decided to be the wrinkled, real me and have not had plastic surgery or a tummy tuck! My hair is all colors, depending on the sun's rays and the lime in the water. Clark is fit and ready for golf! Lovingly, Judy Johnson McCleary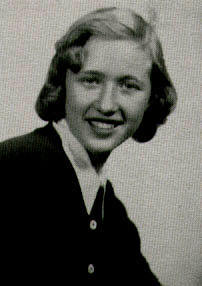 Pat Johnson Nieman
Pat Johnson Nieman
New Hartford, IA.
I now have 5 grandsons, 1 granddaughter and 1 great grand son. I lost my husband to lung cancer in 1996. I went to work part-time at the AMRH on Union Rd to fill in my time. I also still do crocheting and I have learned to do plastic canvas work.
I try to travel to TX twice a year to see my youngest daughter, and her husband and their two boys. My second daughter moved to Fairfield, IA so I go see her and her husband and two boys. My oldest daughter still lives in Cedar Falls so I see her quit often.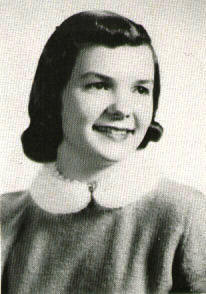 Carla Knoll Lankow
Renton, WA.
I did my undergraduate work at Iowa State intending to teach or do fabric design. Instead I married, moved here to the Puget Sound area for my husbands job with Boeing. We soon had three kids so I then spent the next 30 years being a Professional Mommy. After the kids were grown my husband and I also grew, but in different directions.
I am very involved in horticulture, particularly hybridizing beardless irises. Through the American Iris Society I met my now husband George, his late wife was also a hybridizer. We are very involved in several Iris Societies both local and national. I am the immediate past president of SIGNA (thus my email address) The Species Iris Group of North America, an international organization for the study of species irises. Our travel is often connected to irises or Elderhostels. Our two trips to our favorite country in the world, New Zealand, were for an International Iris Symposium and an Elderhostel. Between our travels we spend a great deal of time on the upkeep of our 2 acres of gardens. We also spend as much time as possible with our children and grand children (we each have three. The kids call us the "Brady Bunch".
Our home is on five acres of woods that back up to a wildland preserve here on Cougar Mountain. Thus our property comes with a lot of wild life which we enjoy most of the time. Last week however our local bear ripped two bird feeders off the house to get to the suet pans! Squirrel proof feeders are one thing, bear proof feeders are a little more difficult. We also enjoy being 30 minutes from the major metropolitan area of Seattle where we can enjoy good theatre, great Jazz, and museums. So it is not all bears and cougars and gardens.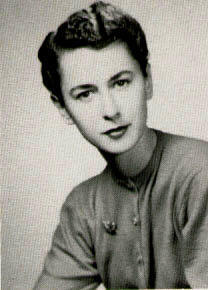 Knicky Kronick
Nicky Kronick
Quepos, Costa Rica, Central America
After SUI, I moved with my sister, brother-in-law and their family to San Diego, CA., where I lived and worked for 40 years. Publishing was my love and I worked for a decade at a City magazine, then later published or helped publish numerous books, one of which was "San Diego".
I was one of the lucky ones to be in the right place at the right time and spent another decade developing my own (small) real estate projects, including the second apartment-condominium conversion in Denver, Co.
Travel has always been a strong lure and I have had many wonderful travel adventures in my lifetime...(and a couple that weren't so great!).
In 1998 I decided on a radical change of lifestyle and moved to Costa Rica, Central America, where I bought a lot on the Pacific Coast and built a home. It was a real challenge, considering my Spanish is rudimentary, I knew no one, and it's a very "macho" country. But it all turned out well and I find myself grateful every day to be reasonably healthy and able to enjoy the beauty of the jungle around me.
I'm also delighted to find so many of us survived to this age and am looking forward to the trip back to Cedar Falls, the base from which we all grew. Until then...Hasta la Vista!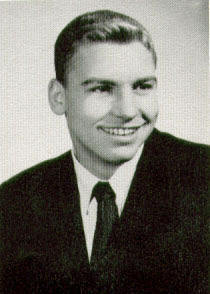 Doug McInroy
Cedar Falls, IA
Graduated from high school, worked now retired and working on a class reunion (guess whose?) Married for 35 years, have three stepchildren and one grandchild.
Interests: Antiques, spoiling a new dog, golfing, reading. Married to Maggie who also enjoys antiquing and spoiling a new dog.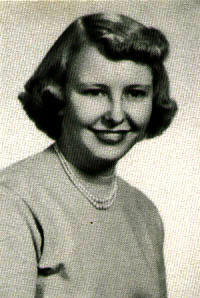 Ruth Mehmen Isley
Waterloo, Iowa
After graduation, I worked at the First National Bank in Cedar Falls. Met a wonderful man, named James Isley, from Janesville High School. He lived in Cedar Falls and we were married Nov. 10, 1956. Then I went to work as a legal secretary for Birdsall ( yes the same one Birdsall Park was named after him), Pickett and McLendon, Waterloo attorneys for over 6 years. I had two children a boy and a girl who are both single and age 42 and 38 and stayed home. When kids were in 6th and 9th grades in the year 1977 I decided to follow them in school and became employed for the Waterloo Community School District and really enjoyed it and there never was a dull day, I worked at Edison and then Central Intermediate and retired in 1996.
Jim died in June, 1999 so that was a rough time but I kept our home in Waterloo and a trailer home in Harpers Ferry, IA which we enjoy in the summers. Especially my son who likes fishing. My daughter had a kidney transplant and a divorce, so she now lives with me. I still get together every month plus more with my old classmates of 50 years and more and enjoy the good times. Still retired and enjoying every minute of it! Spend time with a few of my classmates: Phyllis, Patricia, Mary Jane etc.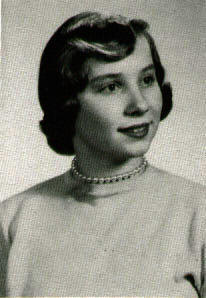 Sonia Melichar Callahan
Piedmont, CA
I am not sure how long a biography you want but this is how my life has gone since graduating in' 54. I graduated from Iowa State University with a double major and then taught a year in Iowa. I returned to Iowa State to take my Masters Degree in Early Childhood Education after marrying Hugh Callahan who taught on staff there. Following our stint in Ames, we moved to San Francisco then Houston, Texas, where our son was born We moved back to California when Hugh was assigned to work on the Bay Area Rapid Transit Project. That kept us in one spot until the project was finished and then we were sent to Melbourne, Australia. Our third daughter was born there and upon our return to the US we were assigned to London, England where we stayed almost 5 years. We returned to California for several years and then were on assignment in Jakarta, Indonesia. After returning to the Bay Area Hugh retired and we have remained in Piedmont, CA.
Believe it or not, the last career I ever wanted was teaching and that seems to be the thing I have done most successfully. During the Head Start Days my advanced degree gave me the opportunity to teach Parent Education in Oakland and 3 of the newly founded Jr. Colleges in the area. On are England assignment I taught kindergarten at the American School of London which our children attended. On our assignment to Indonesia I taught Jr. High and High School Home Economics and kindergarten at the Jakarta International School .Returning to Ca, I resumed teaching for Oakland, teaching English as a Second Language to Adults. I am now retired but still teach occasionally and often substitute teach to fullfill my need to be around students. For never wanting to teach, I have spent a good part of my life teaching.
Three of our children live in California. Our son, David, an engineer, lives in Southern California and our daughters, Carolyn and Anne live within a mile of us. Carolyn is and environmental consultant and Anne is a school counselor. Amy is our teacher and enjoys living and teaching overseas. She is presently teaching at Roberts College in Istanbul, Turkey and has had assignments in Pakistan and Southern Turkey as well.
In retirement, I enjoy three hobbies. I enjoy growing cymbidium orchids which are suited to our outdoor climate here in the East Bay and participating in Children's Theater which provides live theater to children in economically deprived areas. Additionally I am a quilt artist, making both contemporary and traditional quilts. The quilt that I made in response to 911 was selected to be part of the touring show and has appeared in many cities within the US and Europe. The exhibit will continue to tour until 2005.Two of my quilts were on display at the Houston International Quilt Show last year, an accomplishment which I will probably never be able to duplicate.
Some of Hugh's and my retirement hours are spent enjoying the company of our two local grand children, watching their development and observing the many things we may have missed in our childrearing days.We also enjoy the summer visits of our older grandchildren when we rediscover the wonders of our local attractions.
While both of my brothers continue with music in their retirements, my one contribution to the music world is my annual participation in the July 4th parade with the community band. Marching and playing the French Horn at the same time manages to challenge me annually when I dust off the horn.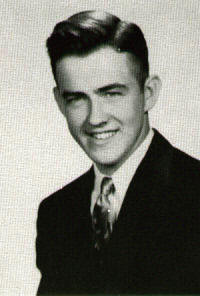 Jerry Mooers
Sun Lakes, AZ.
Following graduation, Bob Wise and myself joined the Navy. We went to boot camp in Great Lakes, north of Chicago. Bob went on a Destroyer and I went into Naval Air. After several training schools, ended up in North Island, San Diego, CA. After being discharged, I returned to Cedar Falls for two quarters of school at UNI. When winter came, I left for San Diego again. Was not use to the snow and cold any more. Graduated from San Diego State University. Worked as a policeman on the San Diego Police Department for almost 8 years and went to work for Naval Intelligence for 4 years as a criminal investigator. Then transferred to the Justice Department and worked with Federal Narcotics (DEA) until retirement in 1986.
While a policeman in San Diego, (1959) I stopped Terry Parks in uniform. I complained about how Cedar Falls High School, never seemed to teach their students how to drive very well. He was stunned for some time trying to figure out what was happening. It is a small world. Also meet Paul Barnes while walking a beat in San Diego and Jim Boysen driving in East San Diego. Guess we should have had Drivers Ed in school.
Now, I am a volunteer for the National Center for Missing and Exploited Children. They have a group called ALERT (Americas Law Enforcement Retirees Team) and we locate missing children. To keep up and alert, I work on computers and build web sites. Married to, Jan and have two daughters and four grand daughters.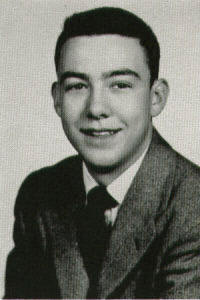 Mike Myers
Morristown, NJ
The few bio's listed so far are interesting, so I'll add my two cents worth. Following graduation in 1954, I spent 4 years at ISTC/UNI, was drafted (along with Jerry Thopmpson), and spent my army tour at the Persidio of San Francisco, CA (tough duty). Upon discharge, I enrolled at Cal Berkeley for about a year and then returned to Iowa, got married (to ISTC classmate Jane Allison from Greene, IA), and started my first real job at Collins Radio in Ceder Rapids. Three years and 2 kids later, left Collins and enrolled in the U of Iowa graduate program in Hospital Administration. Graduated in 1966 (now with 3 kids) and was sent to Morristown, NJ as an administrative intern. Always expecting to return to the good old midwest, one year turned into two, two into five, etc, etc. It's now 38 years later and I'm still here. I retired from Atlantic Health System/Morristown Memorial Hospital in at the end of 1999.
After raising 4 kids (4th born in NJ), Jane returned to teaching, retiring in 1998. Our 3 girls (born in Iowa) all married local guys and live within 5 miles of us. They have produced 9 grandchildren whom we see a lot and enjoy. Our youngest (son born in NJ) is unmarried living and working in San Francisco. I am enjoying my retirement years with lots of volunteer activities, traveling, playing golf (badly) and generally doing whatever the spirit moves. I look forward to seeing all of you on June 25th.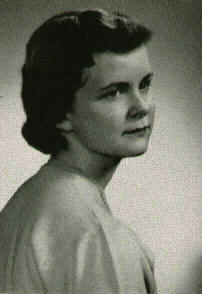 Judy Nordly Moody
Cedar Falls, IA
Since graduation from CFHS I have lived mostly in Cedar Falls. I was away for a few years teaching, going to graduate school and working in speech pathology at Iowa U. Keith and I were married in 1963 and I worked some years at the speech clinic at UNI and a few years at St. Stephen Student Center on the UNI campus. Keith and I have five children...all of them in Iowa...a real blessing in these times of scattered families! Keith died in 2000 of ALS (Lou Gehrig's disease). His death was surely the greatest adjustment challenge I have had to face. However, I remain in the house on Clay Street which we had lived in for 35 years, my health is good, and I have lots of family nearby...four of nine grandchildren are in Cedar Falls as well as two sons and wives. Life is good and I am grateful for what is. Hope to see MANY of you in June.

Nancy Norvell Ball
Carbondale, Colorado
Graduated from UNI in 1958 in Engglish/Speech/Theatre
Taught Jr. High Language Arts in southern Iowa for a year. Married Bill Ball, Waterloo Attorney, & had three children; Jenny, Chris, and Ben. Went to grad school at UNI in 70's;was one of founders of Black Hawk County Children's Theatre & Tiddlywinks Youth Theatre. Got divorced from Bill & went to Arizona State University in Tempe where I got my MFA in Drama & Theatre for Youth. Spent a year acting with State One: The Louisville Children's Theatre in Kentucky & then moved to the Chicago area where I taught K-5 Drama in the Evanston, Illinois Elementary schools for eighteen years. During my summers off I taught college classes in several southern states in order to help public school teachers incorporate drama into their teaching. In 2002, I retired and this past December I moved to Carbondale, CO to be near my daughter & grandchildren & where I do storytelling, teach in an after school literacy program & will teach drama classes this summer. Jenny is a Family Resource Counselor for the Roaring Fork School District, & is married to Mike Lindsay, a metal sculptor. Her children from a prior marriage are Abby Reilly, 17, & Hayden Reilly, 13. Chris is a lighting designer for French Accent Design in Fort Lauderdale & Ben is an architect in Los Angeles. Neither Ben nor Chris is married.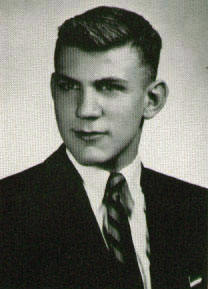 Roland Peterson
San Diego, Calif.
After graduating from Cedar Falls High I joined the Air Force, growing 5 inches taller my first year in the service to reach a whopping 5' 8"! I was stationed at George Air Force Base in California, sent to Okinawa, and then discharged from Selfridge AFB near Detroit. I returned to Cedar Falls and attended Northern Iowa State Teacher's College while working for Johnny Rapp's Sinclair gas station, which is now immortalized as a museum! But I had caught the California bug, and decided my true calling was to be a surfer. I went to work for the Post Office in San Diego, and made a career of it, retiring in 1991. I had three children by my first marriage – Duncan, Anne, and Chris, who have all married and had children, giving me seven grandchildren. In 1976 I married again, and Adrienne and I have three boys – Joseph, aged 18, and twins Michael and Jordan who are 16. Needless to say, family has kept me busy, and since "retirement" I have worked for a copy business, running blueprints and deliveries. We have enjoyed a few cross-country road trips, camping, and backpacking, as well as just hanging out at our pool and cheering on the San Diego Padres.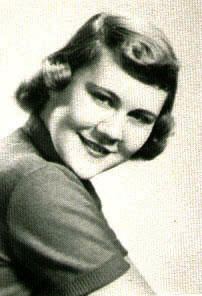 Annettamae Saul Wittmayer
Chandler, Arizona
I was in education as a teacher strategist, consultant and coordinator for forty years. When Ed my husband retired as a firefighter we moved to Arizona. We will be celebrating our fiftieth anniversary in November 2004. We had three boys and a girl but lost one son. We have eight grandchildren and our expecting our first great-grandchild in July 2004.
We have had the opportunity to travel to Israel, Jordan, Germany and Hawaii. We will be spending the summer in the White Mountains but I am looking forward to our 50th reunion in Iowa.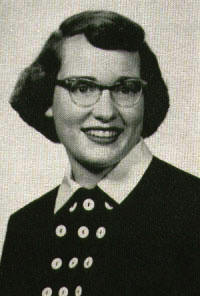 Charlene Seaver Beltran
Cheyenne, Wyoming
After H.S.I spent 3 years at ISTC. Since they required one to go into teaching to graduate from there, and I knew I would never be a teacher, I transferred to Iowa U. I lost enough credits in the transfer that it took me 2 more years to get that degree.n I was no 4-year wonder. There didn't seem to be a big demand for German/math people outside of teaching, so I spent the summer after graduation in Connecticut as a counselor at a Girl Scout camp. Then it was off to Kansas City,Mo. where I landed a job with Piedmont Airlines, and then was off to Louisville, Ky. and then to the Cincinnati Airport(which is actually across the Ohio River in Ky. Put that in your trivia book of useless information) I worked and partied there until Nov. 1963 I spent a couple of weeks in Hawaii, then back to Iowa until Feb. 1964, when my feet got itchy. So I struck out in my trusty '61 Beetle (bought nre in Cincy and which I still have) and spent the next couple of months driving around the country in the general direction of west. Ended up in the San Francisco Bay area where I initially got a job with Pacific Tel and Tel and later with Western Airlines. That's where I met Pete. We were married in March '68 and that Oct. he was transferred to Denver. There were no openings for me so I retired for the first time. Later, some friends who managed a Motel 6 needed help, so I came out of retirement. That lasted a couple of years until the friends moved to Tex. By this time the IRS had shown us the idiocy of 2 full time pay-checks, so I retired a second time. Kept busy making and refinishing furniture and clocks, making afghans and baby clothes for give-away, and getting immersed in genealogy. In 1995 Pete's job was abolished, and since we were at that awkward age (too old to start over and too young for retirement) it meant a move. He decided on Salt Lake City, so off we went, with 2 dogs, 2 cats, and all our wordly possessions we couldn't do without. The 8 years in Utah was "interesting". It didn't take us long to decide that it would not be our final destination. Our house wasn't an official "fixer-upper", but it needed work, so I kept busy taking parts of the house apart and putting them back together again. Pete officially retired in Sept '03, and in Nov. we left Planet Utah behind and re-entered the real world, again with 2 dogs, 3 cats and too many wordly possessions, landing in Cheyenne. Being gluttons for punishment, we have a house that needs work, so we'll keep busy for a couple of years. be assured that anyone that would like to stop by and see us, we have adequate amounts of saws, screwdrivers, and paintbrushes to go around.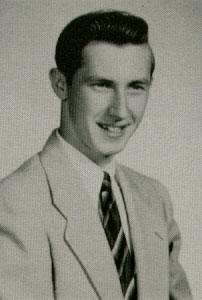 Ed Seufferlein
Cedar Falls, IA.
After a short term at ISTC I enlisted in the Navy before I got drafted. Given a construction school (Seabee), in Calif. Spent the next 3 years in the Pacific. 19 months on the Island of Guam, and 13 months on Kodiak, Alaska. The day after getting my 4 years done, I married a 'movie star' California girl, and we moved back to Cedar Falls.. Where I was in construction for 37 years. Have been semi-retired for 6 years. Did some computer entry and bookkeeping for a Christian bookstore for a while, just part time.
Carol has given me 4 great sons... One is a doctor in Cedar Rapids, another a lawyer in Waterloo. The other two are trying to decide between them just who is the Indian Chief… (doctor, lawyer, Indian chief?? Remember the song?) Ha. But not really a joke… The youngest is still in college and thinking about Psychiatry. (maybe he thinks his Dad needs help). We have 4 grandchildren, including a pair of twins.
I still live only about 6 blocks from the high school. Had the opportunity to help in the remodel of the high school, entry way, auditorium and band areas.. Was real neat to see again just where I sat in band, etc. Years must have really gone by. Seems like yesterday that I was just walking thru that entry way for the first time, and the building was new, but it was 1953.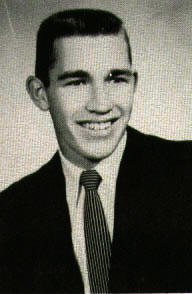 Clayton Thomas
Tucson, AZ
After graduating from High School, I entered UNI (ISTC) to begin a career in education. I married Bonnie Brown in 1955 and continued at UNI through my masters degree. We moved to Iowa City where I taught and was an Junior High Principal. Upon completion of my doctorate at the U of I we move to Normal, IL and Illinois State University where I taught and served in several administrative positions until 1995. During that same period, Bonnie completed her master and doctoral degrees at Illinois State and was a Professor at Illinois Wesleyan University in Bloomington/Normal. We have two children and four grandchildren. We have always enjoyed an active lifestyle. of golfing, skiing, scuba diving, flying, tennis, camping, and traveling. In 2002 we moved our residence to SaddleBrooke, AZ, north of Tucson and enjoy good health and warm weather. Our summers are spent at our cabin in Northwest Ontarior. Church activities, golf, tennis, and socializing keep us busy. We look forward to seeing many of you in CF at the reunion.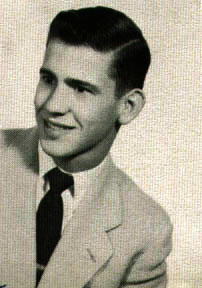 John Thomson
2293 Shannawood Drive, Lexington, KY 40513
PH: 859-223-2428 Cell: 859-338-8000
Employment: 1955 to 1957 US Army
1957 to 1959 Rath Packing Company, Waterloo, IA
1957 to 1969 Engineered Equipment, Waterloo, IA
1969 to Present: The WYCO Tool Company, Racine, WI
Wife: Linda (Lyn) Thomson
Son: John Scott Thomson (46) widower Keane, KY
Grandson (15) Joshua (Josh) Glenn
Robin Jean Bloom: Daughter (45) John Bloom, husband Raleigh, NC
Barbara Jeanne Owens: Daughter (44) Jeffery Owens, husband Lexington, KY
Grandson (10) Joseph (Joey) Charles
Granddaughter (6) Mary Manette
David Randell Lewis Step son (33) Lexington Ky
Manette Thomson
After graduating from Cedar Falls High School, I attend Iowa State College, Ames, IA for one quarter before volunteered for the military draft in November 1954 in order to qualify for the G.I. Bill. However, I was not sworn in until February 1, 1955, one day after the termination of the G.I.Bill. Inducted at camp Chafee, AR, I passed a typing test and was sent the next day to Ft. Sill, OK. After only 6 week's basic training, I became the clerk ("Radar" O'Riley of "MASH" fame) at HQ Battery, 602 Field Art. BN. I made a slight mistake there, when he told a Master Sergeant that he didn't have enough rank to send him to Korea. In early October, 1955, I arrived in Korea where I became the Company Clerk of E Co., 2 Bn,, 19th Infantry Reg., 24th Div. and remained there until I returned to the states in January 1957. I then left the Army at the rank of Sergeant First Class.
After another quarter at Iowa State College (where I excelled only in engineering drafting) I met and married Barbara Barnett in July 1957. First, employed as a design draftsman of special meat processing machinery, at The Rath Packing Co.; later, as a design draftsman with Engineered Equipment for the next 10 years, I became a "traveling salesman". In 1969 I a position with the WYCO Tool Company, Chicago Ill., as a regional sales manager, traveling 6 states, establishing and training dealers, selling vibrators. (That's concrete vibrators, used during placement, to consolidate concrete) This required a move to Lexington, KY. After taking flying, I bought an airplane with plans to fly around my territory. The planning was faulted because it didn't account for the cost and the availability of rental cars and after several years the plane was sold and my travel was done by mostly car.
In 1972, I became a single father of three and remained so until 1983 when I married, after dating nearly 10 years, Linda (Lyn) Lois Lewis. In 1992
Lyn retired from IBM and became an "important do everything" for me including traveling companion, secretary, critic, motivator, bridge partner, as well as continuing as my lover and best friend. Over the years, (nearly 34) my territory, as well as my responsibilities has changed, from 6 states, to 7, to 12, to 24, to 27 states where now I manage 26 salesman. In my spare time (what spare time) I enjoy scuba diving (most recently Little Cayman, last February), carpentry and remodeling (except painting), duplicate bridge, sports, movies, and maintaining and managing 9 rental properties in Lexington and Florida. What stresses me the most: traffic, Airline schedules, computers, and not enough time in a day? If asked when I'm going to retire, I say. "Haven't got time" and beside my "honey do list" is so long I don't dare retire."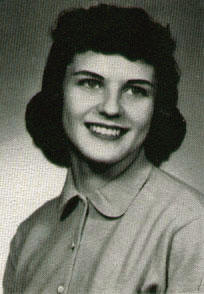 Anna May Westphal Case
Kennett Square, Pennsylvania
After high school I attended ISTC & married Jerry Case, class of '53, in 1955. We lived in Iowa City while he was in medical school & Phoenix, California, NJ, Delaware during his 11 yrs. in the Navy. We have 9 children(6 boys, 3 girls).Three of the boys are physicians(2 were Army - one served in Desert Storm, one Navy), one son graduated from Annapolis, 2 of the girls are RN's, the 3rd a Physicians Assistant. Ten grandchildren. Jerry took his orthopedic residency in Phila. & has practiced as an orthopedic surgeon in Wilmington, DE since '71. We have lived in an 18th century house on a 41 acre farm just across the PA line since '75. He doesn't operate anymore, plays a lot of golf (in fact has linked up again after 50 yrs. with KeithHannan and Jack Shearer), and plans to retire fully in a few more years. Jerry's year in Viet Nam as an orthopedist with the Marines '66-'67 cured him of any wander lust so our travels include yearly trips to FL and our house at the Jersey Shore. I have managed his practice for over 25 years. Our oldest daughter had been his nurse until a cardiac arrest a yr. ago left her severely brain damaged. She and her family live next door and she survived due to CPR by Jerry. A family tragedy we are still reeling from. A lesson for all: everyone should take a CPR course! Over the years, in addition to my office responsibilities, I have been active in volunteer organizations, have held offices in local medical, historical, and antique collecting groups, and the national doll collectors' organization. As you can guess from this I am a major antiques and doll collector but have load of other interests. I braided all rugs in our home as time permitted, but now really love to do portraits in charcoal, especially of children. I also love to create original musical slide programs for luncheon programs for various interest groups. Wish we could attend the reunion but will be there in spirit. Have a glorious time!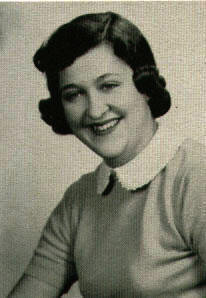 Wilma Wilson Paup
Plano, TX
I attended ISTC after high school and worked at Rath Packing before marrying Dean Paup (class of 55). Our four children all graduated from CFHS just as we did, with some of our classmates as their teachers. Dean was in the real estate and building business and I was active in the community. I served on the boards ot the Cedar Falls Historical Society, the Cedar Falls Civic Foundation, the Wyth House Restoration Committee, the Jr. League of Waterloo-Cedar Falls and the Black County Bicentennial Commission and was instrumental in starting the first Sturgis Falls Day as co-chair.
Dean developed wanderlust so we moved to Plano, TX in 1984 and he went to work for a friend. Later he went back into the real estate business with ReMax. I recently retired after 20 Years with Harley-Davidson Financial Services in Plano. (No, I don't own a Harley!)
We are fortunate to have two of our children living nearby. Susan in McKinney and Ross in Frisco. Kathy lives in Des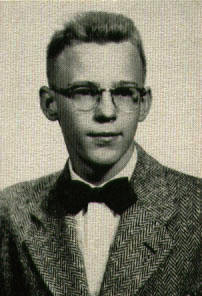 Robert Wise
Robert Wise
Cedar Falls, IA
Thanks to Gym class credits, I graduated in 54. I joined the Navy with Jerry Mooers. After boot camp, shipped out on the USS Hubbard DD-748 to patrol the China and Korean coast for the next three years. Completed my enlistment in 1957, I went to college at Chicago Tech until I was broke. I worked as a Tool and Die Maker for 40 years. A job I really liked.
In 1960 I married Judy Ayers from Grundy Center. We had 4 children, one daughter and three boys. Now I have 4 grand children. Still Retired-Still married and Still broke.
---
If anyone wishes to correct, add or delete anything from this page
send it to me on an e-mail, ErvHarmon@aol.com